Comenius Project in Barcelona 4-8 November 2013
Monday, 4 November (Isabell/ Jacqueline)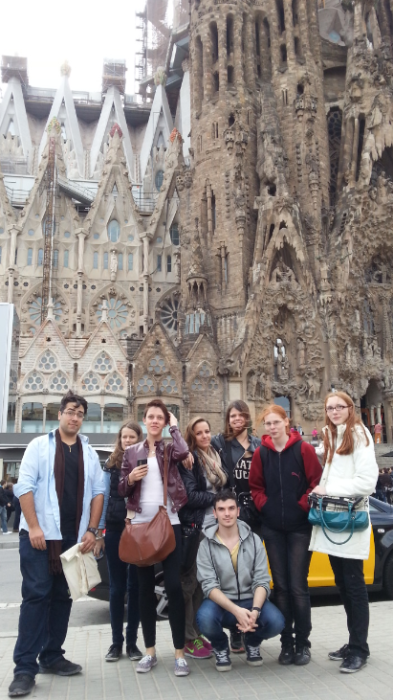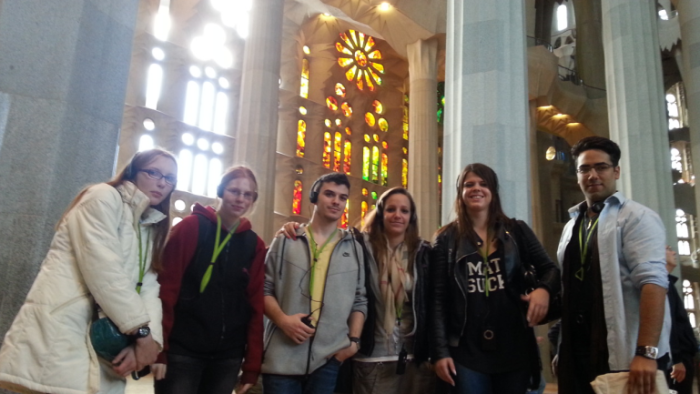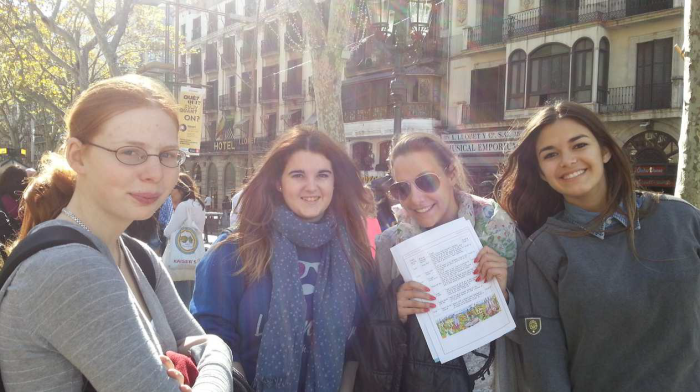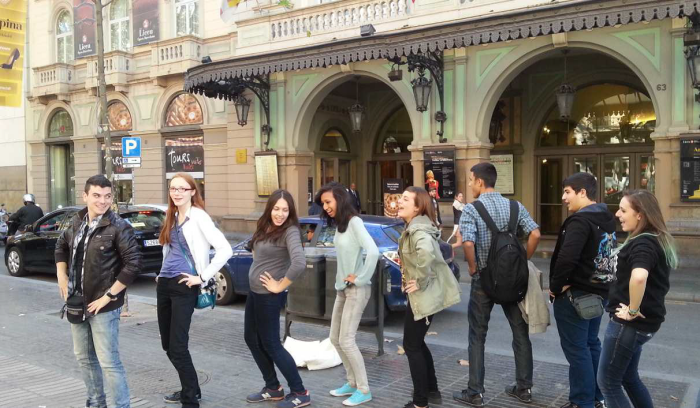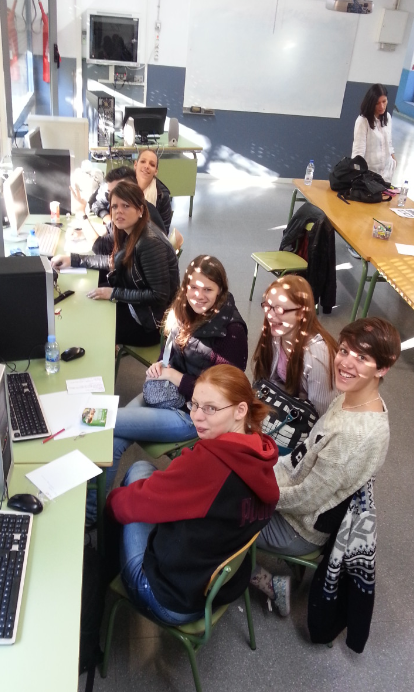 On Monday morning we went with our host sisters by metro to their school.
There we were welcomed and divided into groups.
The groups were then going on in various class rooms where ice breaking games have been prepared. So you could already get to know other students from other countries and make contacts.
After a lunch break, we took the metro and the complete Comenius group went to Sagrada Familia. This is a Catholic church that has been designed by Antoni Gaudi.
We had a tour in the church and were amazed at its beauty.
The church columns represent trees there, all the windows are colourful, all animal figures can be found in and outside the church.
The exchange was very eventful for us and we were able to gather a lot of valuable experience.  We had many insights into the culture and lifestyle of the Spaniards, for example: for breakfast, both of us got a baguette with olive oil, salt and tomato which is unusual in Germany.
The dinner was at 10:00 p.m.. In Germany it is much earlier.  For dinner there were always chips or tortillas and for dessert there were always a pudding or cream cakes.
We had also a pleasure to eat tapas and paella con pollo, i.e. to enjoy original Spanish paella with chicken, homemade by the host grandma. We would make an exchange one more time but would prefer to stay longer in a host country for example for a year as an au pair.
Tuesday, 5 November (Jessica/ Sarah-Luise)
At 8 o´clock we met at the school and attended classes with our hosts.
A lesson takes one hour, what is unusual for German students. Ellie and Sandra had one lesson of Arts and another one of History. Instead of a black board the teachers use a computer with a projector.
After the lessons we went to Barcelona by subway. At the Plaza de Catalunya we were divided in groups for a treasure hunt. We saw the cathedral and the old town centre. At the famous shopping street "Las Ramblas" every group had to do a task to get money from passers-by. One group danced "Macarena", another one offered gambling. Such experience creates a great team spirit and a powerful bond of friendship.
When we finished the treasure hunt we had free-time. Most people went shopping but we accompanied Ellie, Sandra and Dani to a rehearsal for the Farewell party on Thursday.
Wednesday, 6 November (Zülf/ Sarah Iabell)
On Wednesday we were in the Institut Maria Aurelia Capmany (school) and met at 8:45a.m. At 9:00 o´clock the groups from the different nations were brought in computer rooms so that they could prepare for the presentations. The preparation time was from 9:00-10:00 o´clock. At 10:00 o´clock all students of the Comenius project made their presentations in the school library. The first group were the English.  They showed the sights of Kings Lynn. The second group was Italy, they planned a trip through the historical cities and sights in their region. Then there was a break that lasted 30 minutes, afterwards the Turkish group presented their landmarks and historical places, etc. and then came the German group. The German group told about the Speyer Cathedral and introduced our school with a video. Finally, the Spaniards told about Barcelona's attractions, i.e. the famous cathedral Sagrada Familia.
After the student`s presentations we went to the City Council of Cornellá. There was a guide and she spoke about the history of the City Council and the neighbourhood Cornellá. She showed us the building and a little bit of Cornellá.
At 2:00 o`clock we had lunch, we went to a shopping centre and ate there a little bit. Other students went eating to other restaurants.
At 4:00 o´clock we had a guided tour in the City lab.
They showed us a 3D printer. That future technology is really amazing.  At 5:00 o´clock we had free time and we could go with our host family where we wanted.
Zülf: The journey has helped me to understand what it means to be alone without my family in another country to try to cope with the new situation.
And that it was a good decision to go to Barcelona as I've also learned a bit of Spanish culture and many new people. I think that the trip helped me a lot.
Sarah-Isabell: For me personally, the journey brought the experience of other cultures and how the Spaniards are.
I've learned that the culture of the Spaniards is quite different than ours and the country is beautiful. I would go back to Spain. The people there are very kind and hospitable.
Thursday, 7 November (Nadine)
The Thursday was a wonderful, sunny and exciting day. At the beginning of the day we met near to the Catalan national museum, Museu Nacional d'Art de Catalunya in Barcelona at 9 o'clock in the morning. There were short and interesting presentations of the Spanish pupils. After the presentations we walked the way to the Catalan national museum. From the top we had a wonderful view overlooking the city Barcelona. With more than 250 000 works the Catalan national museum, Museu Nacional d'Art de Catalunya, at the foot of the Montjuïc mountain in impressive collections shows all facets of the Catalan art of the Romanesque up to the modern age.
At 12:30   we set out for the funicular "Transpordador Aeri". On the way we visited the "Camp Nou" stadium. It is a football stadium that was opened 1957. As well we visited the Estadi Olimpic that is next to the stadium. After the investigation of these places of interest we walked to the funicular. There was only one gondola therefore we had to wait until the others came.  Out of gondola we had a miraculous view. We saw the port, a lot of ships and boats and also we had a wonderful view overlooking the city of Barcelona.
At 14:30 we walked together to the beach where we spent our time a little bit. The sea, the beach and the lovely weather created a miraculous atmosphere. After the beach we divided ourselves into groups and went separate ways. In our group there were ten people. Near the beach there was a shopping centre where we ate, drank and bought something. At 7:00 o´clock we were in a restaurant organized by the Spanish.
Thursday evening (Riccardo)                                          
After the great afternoon we had with the other groups in Barcelona, everybody went to his host family to prepare for the farewell celebration.
Chic shirts and a dress, even the teachers were well dressed for this evening. At 7:30pm I arrived with some Spanish and Turkish friends I´ve met there.
The celebration took place in a Bar/pub which was reserved only for the Comenius people.
It was a good location, with a stage, some snacks and my host Brother Jordi and 3 others from his class were responsible for the entertainment.
They had prepared something funny, but at first they played songs on the saxophone, guitar, bass and of course with a girl who had a nice voice.
Next, they did some funny jokes about their teacher and 2 of the German group weren´t spared, but in spite of this it was very funny and no one was offended, how could they?!, at last we became all friends after these few days.
Well, after that the dance floor was opened and the music on.
Even the shyest were now relaxed and courageous enough to do one step and dance. I spoke with the Turkish, Italian and Spanish groups, finally they were allowed to drink one beer, only our teachers were killjoys in that point. In other words we were the only one who weren´t allowed to drink, even our teachers drunk one beer. Last but not least Turkish teachers showed us a traditional dance of their culture.
But all in all it was an unforgettable night and in the end every group came on the stage to thank the host families, the teachers and notably the young Spanish students, who showed and taught us so much (tears were not to prevent by the female hosts and guests).
Friday, 8 November  – Good Bye Barcelona (Sarah- Luise)
Finally it was Friday and we had to fly home.
Our flight was planned for 12:55, so we had to be at the airport at 10:00.
The students from the other countries left later. They had breakfast with their hosts at school.
The people from our German team spent the morning in their host families and came directly to the airport.
Ellie came to Sandra´s place with Jessica and Sandra´s father took us to the airport by car. We checked in and said Good Bye to our hosts.
The flight from Barcelona to Frankfurt was only my second one. My first one was from Frankfurt to Barcelona five days before.
Now I love flying and would like to fly somewhere again.
I got home with mixed feelings. One the one hand I missed Sandra, who was very friendly to me this week. We got along with each other perfectly.
On the other hand I was happy to come home and see my friends and my boyfriend again. It´s also a good feeling to come back to a place where you can read the signs and understand people talking.
I´d like to mention that the week was difficult for some people from our team. I think their happiness about coming home was stronger than the sadness about the farewell. I think it´s alright that they didn´t pretend something they didn´t feel.
I´d like to visit Sandra again. Maybe I can do this next summer when school is over.
All in all I think that the Comenius project is a good idea to meet new friends, see new places and learn about different cultures.
If I got the chance to join an international project again, I would do it. And I suggest the same to everyone.